PsyApo 2021 // 27-29.08.2021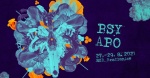 Psychedelická Apokalypsa tě vezme do postapokalyptického lunaparku, kde se odehrával legendární festival Junktown.
Budeš se procházet kulisami postapokalyptického filmu a připadat jako ve hrách Stalker nebo Fallout. Jenom prolézt všechny kulisy zabere celý víkend.
Na stagi tě čeká vymazlený multižánrový lineup, který začne pátečním deep/dark technem, přejde sobotní den v rytmech chilloutu a deep housu a vyvrcholí sobotní dark psy nocí!
Na výzdobě se podílí především všichni bývalí i současní obyvatelé raketové základny Bratronice, dále Weird Visuals, Psycho's Nest, NatarajArt, Psylocbae a naše vlastní PsyApo crew.
UV bodypainting // Party bus // Necrochillout // Postapo Market // Bar // Jídlo // Čajovna // Amazon Plant Medicine // Trash Punk // Wasteland Atmo jako sviň!
Nejedná se o typickou psy akci, ale to ani nechceme. Milujeme estetiku rozpadu, punk ale i pozitivní vibes, který psytrance přináší. Chceme vytvořit nový subkulturní směr a věříme, že se nám to daří!
Místo: http://zakladnabratronice...
Loňský aftermovie: https://www.youtube.com/w...
Psytrance: TOD // Heehy // Kashmir // Reborn // Spirit Animals // Lumini (DE) // Mr. Gorby // Salihlavka // Triptofun // Ishimura
Techno: Jake Beautyman (GB) // Triptofun // Experimental Cabaret // Soda // Efectiv // Ishimura // DNCK // GreenR // Blofeld
Chill/Deep: Reborn // Namax // 000333 // Diome // Myclick
Raketová základna Bratronice
50.0586603N, 14.0112047E