Umístěnka do Psychedelické léčebny Mácháč 2023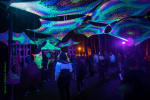 Festivalová série Psychedelických léčeben nám v průběhu let přinesla hodně zavýskání si na stagi. Je to však tak, že předprodejů není tento rok dost, potřeba na zaplacení nákladů a tedy konání je alespoň 80 kousků umístěnek:
https://www.facebook.com/...
Tímhle příspěvkem tedy chci tenhle fesťák podpořit (kromě zafidlání zadáčo). Jestli to tedy vidíš podobně, na některých Psychedelických léčebnách jsi byl a chystáš se na letošní:
- pořiď si teď umístěnku za 1000Kč a měj fajnovej pocit, že i díky tobě se to může uskutečnit. A víš jak: když ti do toho něco vleze, prodáš umístěnku jinému bláznovi ve FB eventu festivalu.
- repostni tenhle nebo původní příspěvek (pokud to čteš na Facebooku).
Mimochodem, je to tam kid a mimin friendly (sobotní den pod vedením animátorek Sašetky a Inky) ! Hrabání se v písku na pláži, prolejzačky, tanečky s rodiči přes den, dobrodrůžo spaní v chatkách s palandou..
Nějaké vzpomínky na minulé ročníky:
Takhle se juchalo v Peruci přes den:
https://youtu.be/S8M9PT3Uhog
Takhle se juchalo na Mácháči večer:
https://youtu.be/aHZSjL-NvLo
Takhle se tam pokecávalo o ufounech a tvorbě reality:
https://video.gondarika.c...
Fotoze z Mácháče:
https://www.facebook.com/...
Event:
https://www.facebook.com/...