Psytrance projekt Schizoid Bears dorazí 21.3. do Storm Clubu!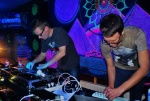 Na 21.3.2015 si Zero Point crew dovolila opět pozvat společně s klubem Storm další zajímavý psytrancový projekt, tentokrát laděný ve forestovém duchu a to holandsko-litevské Schizoid Bears.
Schizoid Bears je psytrancový projekt, který vznikl v roce 2010 a byl založen dvěma přáteli - P.Talem a C.Monsterem, DJs a producenty, zakladateli Forest Freaqs týmu. Debutové EP "Bearsky Dreams" vyšlo v roce 2011 (http://www.ektoplazm.com/...). V roce 2013 to pak bylo LP "Noctiphobia" (http://www.ektoplazm.com/...). Některé skladby byly též zveřejněny na VA kompilacích s různými značkami.
Ve Stormu se tentokrát představí ve dvou rovinách. Jednak ve společném dvouhodinovém live act vystoupení jako Schizoid Bears, na které naváže samostatným hodinovým live act setem P.Tale. P.Tale je hudební nadšenec z Litvy, který nyní žije v Holandsku. Hudebním stylem Psytrance byl "infikován" v roce 2001. V roce 2006 se začal věnovat Djingu a od roku 2009 se již věnuje produkování hudby jako takové. Rovněž je spoluzakladatelem Forest Freaqs a zapojen do projektů Schizoid Bears a Cenotes. Jeho debutové album "Blue Sky Systém" vzniklo v roce 2013 (http://www.ektoplazm.com/...)
Další kdo tento večer doplní lineup na hlavní stage bude neméně zajímavý host ze Slovenska DJ Turo (Psyalaska), dále matador české dark scény DJ Plech (Polyhedra) a za pořádající Zero point crew Lolla a Jandis
V chilloutu se můžete rozhodně těšit na Ondřeje Psylu (Mystical Waves Records), který vás tentokrát jistě potěší svým chillout setem, společně s Kashmírem (Mimo-TV), Elienem (Zero point) a Cukym s Andym Warholem (Synaptic Dreams)
Nebude rovněž chybět psychedelická výzdoba od slovenské Psyalaska crew kterou doplní WizArts ambassador Bobby a za pořádající crew Elien. O vaše blaho a pohodlí se také postarají v čajovníci z Bob Marley shop & psygallery
Vstupenky jsou k dispozici v síti Ticketportal a v baru Ceel na Žižkově za nynějších 190kč (pouze 100ks), poté se bude cena zvyšovat na 250kč. Vstupné na místě bude 320kč.
Facebook event.: https://www.facebook.com/...
Oficiální webové stránky klubu: www.stormclub.cz
Facebook page klubu: www.facebook.com/stormclu...