Psytrance LABoratoř z Portugalska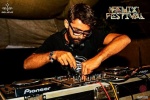 There are no coincidences.
► Náhody neexistují.
FENIX festival
What is new in your life?

Basically everything. I was living in Porto for almost 12 years, now I left the city and my house, been in Goa for the last 5 months, and I`m going back to Portugal, but this time to Lisbon, my hometown, for a new life with my girlfriend .
► Co nového v tvém životě?
V podstatě všechno. Žil jsem v Portu téměř 12 let, pak jsem se rozhodl to město i svůj dům opustit a pobyl jsem 5 měsiců v Goa. Teď se sice chystám zpátky do Portugalska, ale tentokrát do Lisabonu, svého rodného města, abych zahájil novou životní etapu se svou přítelkyní.
What is your inspiration?

I`m inspired in everything that surrounds me, my travels, experiences, and of course the new knowledge I get everyday by pushing the boundaries on music production.
► Čím se inspiruješ?
Inspiruje mě vše, co mne obklopuje, mé cesty a nabyté zkušenosti. V neposlední řadě mě inspirují nové poznatky v hudební tvorbě, ty každým dnem posunují mé hranice a rozširují mi obzory.
What is your relationship to the fire?

I can tell you I need it everyday, and if I don`t have it , I have to ask someone :D
► Jaký je tvůj vztah k ohni?
Mohu ti jen říct, že ho ve svém životě potřebuju každý den. A když ho někdy nemám, řeknu si o něj někomu.
How did you come to your name?

Well, my name has appeared when I was like 15, I use to DJ at my school, when parties happened, and ever since I always loved science and chemistry, so I started DJing with the name LAB. I never thought I would become bigger, because it`s very hard name to Google it, and find me (millions of Lab's) . But if you search LAB psytrance or darkpsy you`ll find me .
► Jak jsi přišel ke svému jménu?
Mé jméno vzniklo, když mi bylo zhruba patnáct. Hrál jsem ve škole jako DJ na akcích, co se tam konaly, a zároveň jsem měl rád laboratorní chemii. Tato kombinace mě přivedla ke jménu LAB. Tehdy by mne ani ve snu nenapadlo, že se někdy stanu známým, zejména proto, že jméno LAB se díky své obrovské četnosti tězko vyhledává na Googlu (jsou na nej milióny odkazů). Když ale zadáš do vyhledávače heslo "LAB psytrance", najdeš právě mě.
What do you consider to be the greatest success of yours?

Last year I released 10 new tracks from both my projects, LAB on darkpsy and Unikorp on darkprog, I`m quite satisfied with that (special mention to the track on the new Frantic Noise album, called Ember End, and also the new VS with Braindrop). I got booked for a few big festivals this year (Freqs of nature, Modem, Masters of Puppets and Fenix of course !) and I`m very happy about it, feels like all my work is finally paying up!
► Co považuješ za svůj největší úspěch?
V uplynulém roce jsem vydal 10 nových skladeb za oba mé projekty, LAB za darkpsy a Unikorp za darkprog. Jsem s nimi celkem spokojený (zvláště bych rád vyzdvihl skladbu na novém albu Frantic Noise zvanou Ember End a také svou novou skladbu s Braindroppem). Na tuto sezónu jsem zamluvený na několika vyznamných festivalech (Freqs of nature, Modem, Masters of Puppets a mezi nimi i Fenix) a začínám mít pocit, že všechna má dosavadní práce začíná nést ovoce.
What did the psytrance culture give you?

A lot to be honest. Met the most incredible people, visited amazing places which I think I wouldn`t visit if I produced any other music genre, and made me learn how to live on a low budget ( AHAH )
► Co ti dala psytrancová kultura?
Abych byl upřímný, dala mi toho opravdu hodně. Potkal jsem ty nejneuvěřitelenější lidi a navštívil nádherná místa. Podle mého názoru bych tuto možnost neměl, kdybych svou tvorbu věnoval kterémukoliv jinému hudebnímu žánru. Tato kultura mne také naučila schopnosti žít i s velmi omezenými prostředky.
How do you imagine perfect Saturday morning on the festival?

Sun rising, a glass in my hand, good company and a full power artist playing an amazing set. Not sure who, but I`m sure I will be positively surprised on Fenix festival.
► Jak si představuješ dokonalé sobotní ráno na festivalu?
Východ slunce, sklenku v ruce, dobrou společnost a našláplého interpreta, který zrovna hraje skvělý set. Nejsem si jistý, kdo konkrétně by to měl být, ale jsem přesvědčen, že festival Fenix mě příjemně překvapí).
FENIX festival and the Year of the fire rooster - do you think it's a coincidence?

There are no coincidences.
► Festival FENIX a rok ohnivého kohouta – myslíš si, že je to shoda náhod?
Náhody neexistují.
Beer or wine?

Cider.
► Pivo nebo víno?
Cider (sajdr).