PsyApo 2122 - Taneční hudba v postapokalyptických kulisách!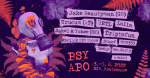 Venku to opět vypadá na konec světa. Válka, hladomor nebo neštovice sice ještě nedosáhly globálních rozměrů, ale začínají tomu mít dost blízko. My jsme naštěstí připraveni a proto ti PsyApo (neboli Psychedelická Apokalypsa) již potřetí otevře bránu do nového, horšího světa!
V postapokalyptickém prostředí Raketové základny Bratronice, dějišti legendárního festivalu Junktown, se rozduní elektronická hudba! Pátek večer se ponese v rytmu valivého Techna a v sobotu v noci tě vystřelí do vyšší dimenze našlapaný PsyTrance. Nezapomněli jsme ani ale na relax a tak sobotní odpoledne podkreslí příjemný Deep House a na noc jsme vyhradili dedikovaný chill-space, kde budeš mít možnost odložit protančené střevíce. Sobotní večer pak zpříjemní folktronické okénko - tribal chill u ohně!
Jako doprovodný program se budeš moci procházet kulisami jako z postapokalyptického filmu a připadat jako ve hrách Stalker nebo Fallout. Jenom prolézt všechny instalace zabere celý víkend. Letos jsme navíc akci rozšířili o prostor vyhrazený pro workshopy, fireshow, stánky, výše zmíněný chill-out nový cirkus nebo třeba pojízdná autobusová stage. Takže festival se vším co k němu patří.
Takže nachystej kostým (ale nemusíš to moc hrotit) a začni se těšit na:
Psytrance:
Lolla // Starf // Triptofun // Heehy // Pangea // Reborn // Mr. Gorby // Zooropix // Grotti // Basic
Techno:
HRTL // Jake Beautyman (GB) // Sakel (SK) // Yuhos (SK) // Triptofun // Soda // Efectiv // DNCK // LukkAst // GreenR // Grima // Grafik
Deep house:
Diome // Myclick // Reborn // SSSN // Retroboy 64 // True Detective
Chill Out:
Urucum (AT) // Django Baru (AT) // 000333 // Mor4m // Mr. Gorby // Panda // Agua // Pohy // M3
Doprovodný program:
Nový Cirkus // UV bodypainting // Party bus // Fireshow // Bar // Jídlo // Masáž // Čajovna // Lightwand Augmented Reality // Wasteland atmosféra jako sviň!
Workshopy:
DIY Barefoot // SOMA Lab s Janem Vodou
Místo: http://www.zakladnabratro...
Loňský aftermovie: https://www.facebook.com/...
Datum konání:
03-05.06.2022 - pátek až neděle
Místo konání:
http://zakladnabratronice.eu
Info:
https://www.facebook.com/...
https://www.goabase.net/f...
https://www.psytrance.cz/...
Popis:
start: pá 18:00, vstup: pátek 1200,-/sobota 700,-
Předprodej:
www.book-tickets.cz/psyapo