Příběh objevování galaxií pokračuje!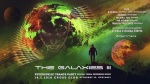 Již za necelý týden ve středu 14.2. se opět můžete těšit na speciální středeční psytrance event.
Připraveny jsou pro Vás opět další novinky z našeho ateliéru, částečné poodhalení nového konceptu 3D objektů pro mapping. Mezitím tu ale pro Vás máme nachystaný příběh, který se odehrává na pozadí toho všeho. Zde je jeho pokračování. Přejeme příjemné počtení :).
//ENGLISH BELOW
Trpasličí galaxie ve Střelci - vzdálená dlouhých 65 tisíc světelných let, nejbližší soused Mléčné dráhy, nejbližší neuron Laniakei.
Neúnavným pátráním po živých planetách jsme společně objevili fraktál života.
Tentokrát jej budeme zkoumat z daleko větší blízkosti, než kdy dříve.
Dlouhá staletí cesty zvládne skupina výzkumníků díky kryogenické meditaci, neurochemickému bioinženýrství a avantgardním kulturním vzorcům. Postupem generací, které se během cesty chladným vesmírem rodí a umírají, se nejdůležitější místností lodi postupně stane centrální dóm. Na konci cesty již nikdo neví, k čemu měl původně sloužit. Možná to byla observatoř, chrám, či svatyně, v paměti ale informace chybí.
Ve chvíli, kdy loď dorazila na místo, by už kdokoli z posádky přísahal, že se v dómu od nepaměti dělo jediné. Tanec. Skupinové vytržení, trans který, dával mrazivým, pustinám hlubokého vesmíru nový rozměr. Tak jako jej dává prázdnota mysli během meditace.
Ve chvíli kdy loď dorazí na okraj sousední galaxie je jasné, že fraktál života se během staletí cesty rozrostl a zesílil. Tak jako tanečníci v dómu lodi, tancují i hvězdy.
Míjejí se, srážejí a vzájemně se ovlivňují - zárodky života cestují na mrtvých kusech kamení a ledu z hvězdy na hvězdu. Pokud proces kontaminace životem nasimulujeme pozpátku, zjistíme, kde to vše začalo. Když se senzory lodi zaměří na danou planetu, dojde k prozření.
Uprostřed dómu se zhmotňuje obraz. Celou dobu se na nás dívali tak, jako se teď díváme my na ně. Trpělivě čekali, až dokážeme zaostřit zrak na jejich svět, až se klopotně dopotácíme k nim. Nastavují nám dlaň v přátelském pozdravu. Nevypadají jako my, ale jsou zvláštně povědomí.
Jako by se postavy z bájí, legend, horečnatých snů a extatického vytržení zhmotnily před našima očima. Víly a můzy, bohové a démoni, inkubové, andělé a boddhisatvové najednou stojí před námi v jedné postavě, která nám nabízí svůj svět. A tančí s námi.
Loď vstupuje na oběžnou dráhu planety a otáčí se dómem k povrchu, tanečníci tak hluboko pod sebou vidí nový svět, lákající je k sobě...
//
Dwarf galaxy in Sagittarius lays an unimaginable 65 thousand light years away from our Milky Way, the closest Laniakea neuron.
This time, we will explore it from closer up than ever before.
Group of explorers will survive long centuries of the voyage thanks to cryomeditation, neurochemical engineering, and avant-garde cultural patterns. As generations will be born and die in the vast, cold expanses of outer space, the culture of the ship will curl around the Central Dome. At the end of the journey, no one will remember what the Dome's original purpose was. Was it an observatory, a temple, or a shrine? No memory, no data can tell the truth.
When the ship arrives at its destination, everyone on board will swear that it has always been used for one purpose. To dance. Tribal ecstasy and trance will fill the vast, radioactive emptiness of space with a new meaning, just like meditation gives meaning to your empty mind.
When the ship arrives at the fringes of the Sagittarius galaxy, it will be revealed that the fractal matured during the centuries of the voyage. Just like the dancers in the Dome, the stars, too, will be dancing.
They pass each other and interact - dead pieces of ice and stone carry life from one to another. We can simulate the process of life contamination and run it backwards to see where everything started - the first planet. When our sensors focus on the planet, we experience a revelation.
In the center of the dome, a figure appears. They had been watching us the whole time, as we are now watching them. Patiently waiting for us to focus our sight on their world, to stumble towards them. They offer us their hand in a friendly greeting. They don't look like us, but they are strangely familiar - as if mythological figures, characters from legends, feverish dreams, and ecstatic trance manifested in front of our eyes. Spirits and muses, gods and demons, inccubae, angels, and bodhisattvas are now standing in front of our eyes in one person offering their world. And they dance with us.
The ship enters their planet's orbit and turns the Dome towards the surface. Dancers raise their heads and watch the alien world far below. It is calling them...
DJs:
► Ejczka (Ufo Bufo / Urban Antidote Records)
https://www.facebook.com/...
https://soundcloud.com/ej...
https://www.facebook.com/...
► Jandis (Zeropoint)
https://www.facebook.com/...
► True Detectives (Centrála)
https://www.facebook.com/...
► Maara Vic (WizArts)
https://www.facebook.com/...
► Mr.Gorby (WizArts)
https://www.facebook.com/...
https://soundcloud.com/dj...
https://www.facebook.com/...
Více informací na stránce události
Psytrance.cz
http://www.psytrance.cz/c...
Facebook event
https://www.facebook.com/...
Goabase
https://www.goabase.net/p...
► Flyer by Kashmir (Mimo-TV) http://mimo.cz/
Vaše děti neonu