Psychedelicious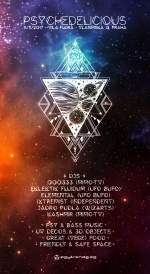 indoor
11.11.2017
Praha
tba

DJs
000333
ELEMENTΔL
EKLEKTiK FLUiDUM
IXTREMiST
JāDRO PUDLΔ (Maara Ví© b2b Jeηda Legeηda)
KΔSHMiR
Deco
bude to moc pěkný jako vždycky, světla, deco, vychytávky
něco WizArts něco Mimo-TV, nějaký překvapení a pár novinek jistě taky
Info
Jak již sám název PSYCHEDELICIOUS napovídá, půjde o noc plnou psychődelických delikates!
Naše pozvání přijali velvyslanci žabí říše MICHAL ELEMENTAL z Elemental crew a EKLEKTiK FLUiDUM Ufo Bufo festival, dále pak nezávislá brněnská spojka IXTREMiST a v neposlední řadě pražský výběr 000333 a KΔSHMiR z Mimo-TV (www.mimo.cz) a za WizArts JāDRO PUDLΔ (Maara Ví© b2b Jenda Legenda)
Jak vidno večerní menu obsahuje pouze pečlivě vybrané lahůdky. To ostatně dokládá hodnocení poloodborné veřejnosti, která nám udělila celé tři michelinské fraktály! Tetokrát se naši kuchaři zaměřili na skupinu přísad zvanou PSYCHILL či PSYBASS. Jak je jejich zvykem, pokusí se prozkoumat chuťový prostor této kuchyně až po její nejzazší hranice, aby nám ji později neservírovali s o to větší intenzitou.
bass | psybass | chillout | glitchhop | ethno | tribal | ecometric | mystic | groove | psydub | downtempo | ambient | psybient | tipper | IDM | shamanic | chanting | organic | psychedelic
Tanečníky vložíme do kotle a postupně rozehřejeme. Jakmile začne kotel bublat, přidáme substance podle chuti. Budeme bedlivě sledovat, aby se vzniklé soté nepřismahlo a postupně dochutíme beaty, psychedelickými smyčkami a samozřejmě plnou hrstí spiritu (ten je třeba v ruce dobře promnout, aby prostoupil celý kotel i jeho okolí). Směs necháme jemně vřít asi tak do půlnoci, kdy zesílíme plamen na maximum a přepneme na tanečnější rytmus. Komplexní gastrozážitek doplní i důstojná a adekvátní výzdoba interiéru, stejně jako třešnička doplňuje dort. Menu je bohaté a bude z čeho vybírat! Připravujeme pro vás zážitek pro všechny smysly.
Entry
prvních padesát stopadesát káčé, druhých padesát úžastníků dvěstě káčé