Der Klang 6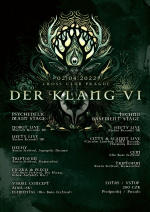 club
02.04.2022
Cross club
Plynární 23, Praha 7 - Holešovice
GPS 50.10841936134269, 14.443345811395925
map

Info
Na letošním, již šestém vydání temně vypsychlých pošušňáníček zvaných Der Klang budeme mít výjimečnou možnost účastnit se dvou událostí současně, a to se vyplatí! Der Klang (Polyhedra crew) se totiž pro tentokrát spojil s paralelně připravovaným setkáním v režii Synaptic Dreams & Kamasutra. Výsledek: Skvost.
V Čechách poprvé uvítáme projekt Nobot z Berlína. Nobot vydává a vystupuje pod věhlasným labelem Parvati Records. Jedná se o dva umělce: Oli (Brainshaker) a Martin (Z-Neo, ex Naked Tourist). V Crossu bude tentokrát projekt reprezentovat pan Oli. Tandem je známý hlubokou psychedelickou (tv)orbou, která vzniká jak digitální cestou, tak v nespočtu analogových mašinek, syntatizátorů, modulů. Noboti se nezdráhají ulovit kdejaký sample – jak sami píšou, kdekoli zazní nějaká bezduchá myšlenka, Nobot ihned přepíná do náhravacího módu.
HEFTY bude poprvé v Praze a budete si ho moct poslechnout jak na hlavní, tak na vedlejší (techno) stage. HEFTY je profesí technař, zaměřující se zejména na různá temnější zákoutí prostoru. V tomto prostoru nalezl podivuhodné zvuky, z nichž vyčaroval svůj vlastní label Darker Sounds. Po čase nahlédl ještě za roh, zabředl do jakési lepkavé pavučiny a propadl světu dark progressive psychedelic trance.
Akce se odehraje v pražském klubu Cross, který, jak známo, sám o sobě poskytuje návštěvníkovi bohatý vizuální zážitek... Ne! To nám nestačí. Prostor klubu se ještě zvýrazní a prohloubí díky originální, bohatě psychedelické tvorbě paní Aiwa z dalekého Slovenska a neméně zkušeného vizuálního umělce Elementala, jenž je hlavním strojvůdcem festivalu Ufo Bufo.
Událost doplní zkušení piloti mj. z řad Ufo Bufo a Fenix Festival teamů.
Entry
200 CZK — Předprodej / Presale: Předprodej za krásný 2 kilča zde: https://goout.net/cs/listky/der-klang-nobot+hefty/dusm/