NOTHING - BUT - GOOD - VIBES - ZEN BABOON - INTERVIEW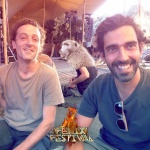 Rozhovor se dvěma Portugalci Daniel Rosado and Henrique Palhavã, které jsme pozvali zahrát do chilloutu jako ZEN BABOON a ZEN RACOON na main stage FENIX festivalu
► N O T H I N G - B U T - G O O D - V I B E S
► N I C - N E Ž - D O B R É - V I B R A C E
(trochu níž najdeš rozhovor přeložený do češtiny)
► B I O
Both were born in the 70`s in Portugal and since an early age kept a close connection with the musical world, focusing on great sound quality and original construction.
Daniel is a sound engineer that worked in a studio in Lisbon and started producing electronic music in the late 90′s.
Henrique, a zoologist, lives and works in his own farm and started as an ambient DJ, ( ̈DJ Henriq ̈) and producer in 2001.
They got together in 2003 and decided to melt their musical preferences and create Zen Baboon.
At FENIX festival you can hear them at Saturday performing live in both chill-out chapiteau and psychedelic main stage.
► I N T E R V I E W
What is your inspiration?
The way we live and everyday life experiences. Probably the simple things and details are more significant for the inspiration that comes when we are sitting in front of the computer making music.
What are you bringing to Bohemia?
Nothing but good vibes. Hope we can put a smile on everyone that will come and hang with us at Fenix stages.
How do you see Czech psytrance scene compare to others?
It's gonna be a totally new experience for us in the psytrance scene in Czech.
Your favourite festival?
Definitely Boom Festival.
How did you come to your name?
Started as a track name before we're even Zen Baboon. After a while we had to come up with a name as we're going to release 2 tracks on a compilation in 2006. With a small name list we asked our friends and Zen Baboon was the most voted.
What is your relationship to the fire?
Tough question or maybe just no relation at all besides making beautiful light in the winter fire room, keeping us warm in the cold days and it's also great to light up our cigarettes ;)
What do you consider to be the greatest success of yours?
Probably Red Frog and La Maison Vert but personally we think Suber was already a personal success as it took so many years and effort to make it.
Also La Libre and Collected from last year. We never expected such a huge response from the fans and Bandcamp supporters. Really thankful for that.
What did the psytrance culture give you?
Many opportunities to play in a super cool "non commercial" environment. We've came across many outstanding stages and venues. Big or small, it has always been a great experience everywhere we travel.
What is your favourite synthetiser?
We work only on digital. No hardware and frankly we don't even have a favourite VST.
How do you imagine perfect Saturday morning on the festival?
Quiet and peaceful. Everyone just sleeping. Party was last night ;)
Ok. There's room for some chill out or some deep spaced techno or simply just taking breakfast listening to some sitar or small acoustic band.
Beer or wine?
Henrique wine in the winter and beer in the summer. Daniel none ;)
► R O Z H O V O R ( Č E S K Y )
Co je vaší inspirací?
Způsob našeho života a každodenní životní zkušenosti. Pravděpodobně mnohem významnější pro inspiraci, která přichází když sedíme před počítačem a děláme hudbu, jsou každodenní jednoduché věci a detaily.
Co přinášíte do Čech?
Nic než dobré vibrace. Doufáme, že se nám podaří vykouzlit úsměv na tvářích všech, kteří s námi pobudou
Jak vnímáte českou scénu v porovnání s jinými?
Bude to pro nás úplně nová zkušenost na české psytrancové scéně.
Váš nejoblíbenější festival?
Rozhodně Boom Festival.
Jaký je váš vztah k ohni?
Těžká otázka nebo možná prostě nemáme žádný vztah, kromě toho že dělá krásné světlo v zimě v krbu, zahřívá nás během chladných dní a je také skvělý k zapalování cigaret ;)
Jak jste přišli ke svému jménu?
Ze začátku jsme neměli jméno a jeden náš track se jmenoval Zen Baboon. Po nějaké době jsme museli vymyslet jméno protože jsme měli vydat dva tracky na kompilaci v roce 2006. Udělali jsme krátký seznam s pár návrhy a zeptali se našich přátel a Zen Baboon získal nejvíce hlasů.
Co považujete za svůj největší úspěch?
Praděpodobně Red Frog a La Maison Vert, ale osobně si myslíme, že Suber byl už docela osobní úspěch, protože to zabralo spoustu let a úsilí.
Pak taky La Libre a Collected z posledních let. Vůbec jsme nečekali takovou obrovskou odezvu od fanoušků a bandcamp podporovatelů. Jsme za to opravdu vděční.
Co vám dala psytrance kultura?
Spoustu příležitostí hrát v super cool "nekomerčních" prostředích. Prošli jsme mnoho vynikajících míst. Ať už velké nebo malé, kamkoli jsme cestovali, vždycky to byl skvělý zážitek. Obzvláště pak lidé, kteří se o nás po celou dobu starali. Není to moc specificky řečeno, ale Mexiko a Japonsko se hluboce dotkly našich srdcí, stejně jako ve většině Evropy, Kostarice, Idii a ve Spojených státech, kde byli všichni včetně návštěvníků prostě skvělí.
Váš nejoblíbenější synťák?
Pracujeme pouze digitálně. Nepoužíváme žádný hardware a upřímně nemáme ani oblíbené VST.
Jak si představuješ perfektní sobotní ráno na festivalu?
Tiché a klidné. Všichni prostě spí. Party proběhla minulou noc ;)
Ok. Je tam prostor pro nějaký chill out nebo deep spaced techno nebo si prostě jen dáváme snídani a posloucháme nějakou sitar nebo menší akustickou kapelu.
Pivo nebo víno?
Henrique víno v zimě a pivo v létě. Daniel ani jedno ;)
► L I N K S ► Z E N B A B O O N // Z E N R A C O O N
https://soundcloud.com/ze...
https://soundcloud.com/ze...
https://www.facebook.com/...
http://zenbaboon.bandcamp...
https://instagram.com/zen...
https://www.mixcloud.com/...
http://electrikdream.band...
► L I N K S ► F E E L - L I F E - M U S I C
https://www.facebook.com/...
https://feellifemusic.com
E-mail: info@feellifemusic.com kukandub@gmail.com Feel Life Music / Barcelona / Spain
► L I N K S ► F E N I X F E S T I V A L
► FB EVENT https://www.facebook.com/...
► MAP https://goo.gl/maps/KSPC9...
► PROMOPACK OLDIES BUT GOLDIES http://fenixfestival.cz/a...
► PROMOPACK FINAL VISUAL + POSTER + WEB FLYER https://fenixfestival.cz/...
► GOABASE https://www.goabase.net/f...
► MUSHROOM https://www.mushroom-maga...
► PSYTRANCE.CZ http://www.psytrance.cz/c...
► NYX.CZ https://www.nyx.cz/index....
===LINEUP IS CLOSED===
Artwork - 000333 © www.mimo.cz
#sharingiscaring