NATURAL FREQUENCIES - BIOSYNTHESIS AND GAPPEQ LIVE ACTS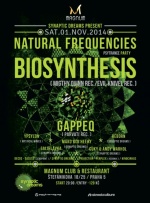 Synaptic Dreams a Magnum Club Vás zvou na již druhé vydání akce Natural Frequencies.
V noci z 1. na 2. listopadu rozvibrují klub Magnum živá vystoupení hned dvou producentů. Z Berlína k nám dorazí projekt Biosynthesis, který vydává svoji tvorbu pod labelem Mighty Quinn Records. Druhým projektem bude tuzemský mistr psychedelie Gappeq z Parvati Records.
Projekt Biosynthesis vzikl v roce 2009, jeho představitel Daniel Kulczycki tvoří také pod jmény Chemical Abstract či Error Box. Daniel je mimo jiné též majitelem labelu Evil Knivel Records, pod kterým vydal kompilace Full Reaction a Evil Voices. Pod labelem Mighty Quinn Records vyšla spolu s projektem Mano EP nahrávka Non Fiction. Cílem projektu Biosynthesis je tvořit magickou psychedelickou hudbu plnou lesních a organických vibrací. Neméně podstatným elementem skladeb jsou také hutné a hypnotické basové linky.
V první fázi večera, která odstartuje ve 20h v lounge baru klubu Magnum, se můžete těšit na pohodové posezení
za hudebního doprovodu DJů Ypsylona z Mystical Waves a našeho DJ Cukyho, jemuž bude asistovat kolega ze Synaptic Dreams Andy Warhol se svojí magickou flétnou (moderní elektronický synaptický syntezátor). Slyšet budou žánry jako progressive psytrance a full-on. V lounge baru klubu Magnum budou mimo jiné v nabídce i vodní dýmky.
Druhá fáze od jedenácté hodiny večerní bude plně věnována noční psychedelii. Stage rozbouří výše zmínění live producenti, Biosynthesis a Gappeq. Krom těchto projektů budou ke slyšení DJs z domácí Synaptic Dreams crew Reborn, Salihlávka a posléze i Heehy a Mako, kteří zahrají závěrečný b2b set.
Rádi Vás provedeme touto tajuplnou nocí plnou inovací v neotřelém klubu, jež nabízí všem možnost užít si party tak, jak to každému vyhovuje. Samozřejmostí jsou faktory, na které jste na našich party zvyklí, tj. kvalitní hudba, dobrý zvuk a nápadité dekorace, které s citem nám vlastním dokreslí celkový ráz akce - pořádnou porci psychedelie v režii Synaptic Dreams crew.
LIVE ACTS:
Biosynthesis (Mighty Quinn Records / Evil Knivel Records)
https://soundcloud.com/c-113
Gappeq (Parvati Records)
http://bandzone.cz/gappeq
DJs:
Ypsylon (Mystical Waves)
https://soundcloud.com/dj...
Reborn (Synaptic Dreams)
http://www.mixcloud.com/d...
Salihlávka (Synaptic Dreams)
https://www.facebook.com/...
Mako b2b Heehy (Synaptic Dreams)
http://www.mixcloud.com/H...
Cuky & Andy Warhol (Synaptic Dreams)
https://www.facebook.com/...
VJs:
Perplex (Hedonix)
Kinocirkus
https://www.facebook.com/...
DECOS:
Sašeta (Zeropoint)
http://zero-point.cz/home/
Synaptic Dreams decorations
https://www.facebook.com/...
ENTRY 120 KČ!
So 1.11. (20:00) - Ne 2.11. (6:00)
CR - Praha - Štefánikova 18/25, Praha 5 – Smíchov