Natural Frequencies 5 - Synaptic Dreams 5 years anniversary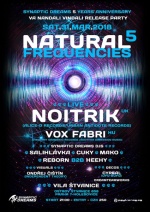 ▂ ▃ ▅ ▆ █ ★ NATURAL FREQUENCIES 5★ █ ▆ ▅ ▃ ▂
✶✶✶✶✶✶✶✶✶✶✶✶✶✶✶✶✶✶✶✶✶✶✶✶✶✶✶✶✶✶✶✶✶✶✶✶✶✶✶✶✶✶✶✶✶✶✶✶✶✶✶
Ač se to zdá jako včera, když jsme se rozhodli věnovat část svého života psytrancu a zformovali Synaptic Dreams, je tomu už celých 5 let, 5 let mejdanů, party, afterparty a festivalů.
Máme za sebou moře zážitků, dobrých i těch méně dobrých. Nyní nastal čas vše řádně oslavit a zbilancovat, uvědomit si, co bylo, ohlédnout se za minulostí a s vděkem zavzpomínat na všechny ty společné zážitky.
Ale nebudeme jen vzpomínat. Povolíme uzdu naší představivosti. Na vlnách fantasie necháme plout naše nápady a naše vize toho, co společně ještě dokážeme.
Příjměte tedy naše pozvání a přijďte s námi slavit. Vyrazme společně vstříc budoucnosti!
✶✶✶✶✶✶✶✶✶✶✶✶✶✶✶✶✶✶✶✶✶✶✶✶✶✶✶✶✶✶✶✶✶✶✶✶✶✶✶✶✶✶✶✶✶✶✶✶✶✶
★★★ Live ★★★★
► NOITRIK (Alice-D records/Urban Antidote records) UK
https://soundcloud.com/no...
https://www.facebook.com/...
►VOX FABRI (Visonary shamanic reocrds/Another dimension Music) HU
https://soundcloud.com/or...
https://www.facebook.com/...
★★★ Synaptic Dreams DJs ★★★
► SALIHLÁVKA
► REBORN b2b HEEHY
https://soundcloud.com/dj...
https://soundcloud.com/heehy
► CUKY
► MAKO
★★★ Decos ★★★
► CYREAL (Ufo Bufo)
https://www.facebook.com/...
► DreamTeamWorks
★★★ Visuals ★★★
► mapping by ONDRA ČIŠTÍN (Independent Theory)
Entry:
250kč
▂ ▃ ▅ ▆ █ ★ VILA ŠTVANICE ★ █ ▆ ▅ ▃ ▂
Ostrov Štvanice, č.p. 858
170 00 Praha 7
KUDY KAM
Uprostřed Hlávkova mostu: dolů po schodech napravo vedle bývalé diskotéky Face to Face dorazíte přímo k vile.