Naoranžovělé příběhy ticha (rozhovor)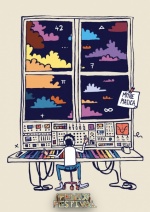 Rozhovor s Danielem Špačkem aka MYTHEMATICA, kterého budete mít možnost slyšet naživo v sobotu 25.5. 2019 v chilloutu na FENIX festivalu
Mythematica je už delší dobu v zimním spánku, probouzí se teď výjimečně kvůli FENIXU!
► B I O
CZ: MYTHEMATICA je pěstírna a šlechtírna krystalických zvuků, která kdo vašich uší přináší jemné, hluboké, ostré až šumivé, místy zaprášené naoranžovělé příběhy ticha. Z mechu a kapradí přináší čerstvě utkané "oink" zvuky, "pitipa" melodie a "tampatynk" rytmy. Tento elektromagnetický cirkus je pod taktovkou Daniela Špačka, ilustrátora z planety Země.
ENG: MYTHEMATICA is audio breeding and cultivation lab of rock-crystal sounds, which brings to your ear another sublime, deep, fizzy sharp as far as chilly, sporadicaly dusty and transparent partly orange tales of tranquillity. From moss and fern it cames bringing freshly weaven and with love trued "oink" sounds, "pitipa" melodies and "tampatynk" rhythms. This electromagnetic circus is guided by Daniel Špaček, illustrator from planet Earth.
► R O Z H O V O R
Co je nového ve Tvém životě?
Každý den je pro mě nový. V poslední době třeba to, že bydlím kousek od severního moře a chodím běhat s rackama co na mě pokřikují svoje Oik!.
Co je Tvou inspirací?
Inspirace je pro amatéry, nám profesionálům nezbývá než se každé ráno posadit ke kreslícímu stolu a pracovat.
Jak vnímáš Českou scénu v porovnání s jinými?
Česká scéna je rozhodně progresivnější než ta na Proximě Centauri a pochopitelně mnohem zaostalejší za Andromedskou scénou, protože rozdíl několika Eonu vývoje je tam znát. Každopádně doma je doma.
Tvůj nejoblíbenější festival?
Bio, nebio.
Jaký je Tvůj vztah k ohni?
Rád bych si myslel, že je ten vztah oboustranný, ale již delší čas ho podezřívám z toho, že pro mne, jak se říká nehoří. Půjčíte mi sirky?
Jak jsi přišel ke svému jménu?
Telepaticky, jako ostatně ke všemu v mém životě.
Co ti dala psytrance kultura?
Podivínskou rodinu.
Tvůj nejoblíbenější syntetizátor?
DSI Evolver.
Jak si představuješ perfektní sobotní ráno na festivalu?
Většinou jsem byl někde v lese a na kopci a čekal na východ slunce.
Pivo nebo Víno?
Na kopci se vždycky čekalo nejlépe s portským, pivo v kelímku se do kopce blbě nese a lahváče moc cinkají.
► L I N K S ► M Y T H E M A T I C A
► http://mythematica.com (vede na bandcamp)
► spotify link
► L I N K S ► F E N I X F E S T I V A L
► MAP https://goo.gl/maps/KSPC9...
► FB EVENT https://www.facebook.com/...
► PROMOPACK http://fenixfestival.cz/a...
► MUSHROOM https://www.mushroom-maga...