MYTHEMATICA má novou desku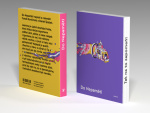 Další deska Mythematicy je na světě. Vychází přednostně na https://mythematica.bandc...
Naživo uslyšíme jako DJ set na akci Psychedelicious OA https://www.facebook.com/...
Další deska Mythematicy je na světě. A není to jen deska. Je to soundtrack ke knížce, napsané a nakreslené Tomášem Končinským a Danielem Špačkem. Knížka se jmenuje Do Nepaměti, vydává ji nakladatelství Albatros a bude v českých knihkupectvích na konci března. Je to fantastická a dobrodružna cesta do říše poztrácených vzpomínek. Po Magnesií Literou oceněném Překlepovi a Škraloupovi je to další kreativní spolupráce těchto tvůrců.
Mythematica byla již od svých počátků poměrně specifický projekt. Eponymní album Mythematicy z roku 2009, oceněné Zlatým Andělem jako nejlepší elektronická deska roku, nebylo první, ale nulté. Následné vydání prvního alba bylo strategicky přeskočené, aby se předešlo nebezpečnému syndromu první desky. A v rámci této strategie byl soundtrack k této knížce složený a nahraný ještě předtím, než se na ní začalo vůbec pracovat. Nejstarší skladba se například zrodila v nejranějších mythematických dobách, dokonce tak dávných, že Mythematica ještě neměla ani jméno. Dokážete poznat, která ze skladeb to asi je?
Eklektická kolekce doprovází příběh knihy, jak se postupně rozvíjí a přesouvá z jednoho fantaskního místa na druhé. Střídají se zde hravé pasáže s úseky tajemnými a místy až nalehavě melancholickými.
Nyní máte jedinečnou příležitost si poslechnout tento zvukový doprovod světa Nepaměti dříve než se do něj budete moci vypravit prostřednictvím textu a obrazů.
A o čem vypráví knížka Do Nepaměti? Jasmína je úplně obyčejná holka, která třeba občas zapomene udělat úkol, občas si zase naopak vzpomene, že se jí do něčeho vážně nechce. A proč si taky věci pamatovat? Nejlepší je pustit všechno z hlavy a užívat si! To si ale myslí jen do chvíle, než zjistí, že v záhadném místě zvaném Nepaměť jí všechny vzpomínky mohou ukrást. A při dobrodružné pouti napříč fantastickými světy Jasmína zjistí, proč by nám to, co si pamatujeme, rozhodně ukradené být nemělo.
Vzpomeňte si na budoucnost
Mythematica - Into Oblivia (Music From The Original Book)
Skladatel Daniel Špaček, mastering Luboš Cvrk (Ambientium)
Vychází přednostně na https://mythematica.bandc...
Streaming služby Spotify, Apple music a spol. Budou k dispozici koncem března 2022
—--------------
Mythematica FB post
A long journey with some good news.
Dear friends, I am happy to tell you, that second Mythematica album was just released. And not just an album. It is a soundtrack for the book, which we have written and illustrated with my creative soul mate Tomas Koncinsky. It is called "Do Nepameti / Into Oblivia" and it will be in Czech bookstores at the end of March. It is a phantastical and adventurous journey in a search of memories, memory and all the mystery that is behind it.
Keeping up with my tradition to do things a bit differently, all tunes of this soundtrack were composed and recorded before the book even started. The oldest one is in its core even older than first Mythematica album, thats how deep in the nostalgia we are having our trip (Can you guess which it is?). The eclectic collection is telling a story of our book, so at this moment you have unique opportunity to have sneak peak into Oblivia, before you will even see it and read the full story.
It has been 13 years from the first Mythematica album. For me it is hard to believe. The last time my album was released, my son was born. And now he is grown up, he helped us to came with the idea for this whole book and also he plays a role in that full story, you will see once you will read it.
I would like to thank you all for all the support and positive feedback you gave Mythematica over the years. And I hope this album and the book will be a memorable thank you.
A big thanks to ambientium, who did the crisp and yummy audio mastering of this whole piece.
Mythematica - Into Oblivia (Music from the original book) is released and purchaseable now on Bandcamp https://mythematica.bandc....... Streaming services, like Spotify, Apple music and others are coming later this month.
Remembering the future, hugs and kisses
Daniel Spacek, Mythematica