KLIMENT - rozhovor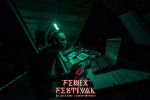 Kliment Dichev je na elektronické scéně pojem již více než patnáct let a reprezentuje různé elektronické žánry: progressive, psytrance, techno, ambient, idm, dokonce DnB. ***přečti si rozhovor s ním https://fenixfestival.cz/... nebo pokračuj dál ve čtení zde*** Jeho hlavní projekt je exkluzivně uváděn na Zenon records – hraje unikátní směs techna a dark progresivu v hlubokém atmosférickém rámci podtrženém pevnými groovy. Jeho hudba otřásla téměř každým velkým tanečním parketem tranceových festivalů na všech šesti kontinentech. Jeho druhý sólový projekt Once upon a time, nyní etablovaný a vystupující po celém světě, je rychlejší ranní/večerní psytrance s neobvyklými zvuky, často splývající s filmovou partiturou a organickými prvky. Podepsán na Forestdelic Records.
*** Oba projekty uslyšíte naživo v ekluzivním 3 hodinovém setu již za týden na https://fenixfestival.cz ***
Kliment je také dobře známý pro svou chillout stránku, kdy pracuje na druhém downtempovém albu pro francouzské Electrik Dream records. Jeho nahrávky pro labely po celém světě – Zenon Records, Blue hour Sounds, Electrik Dream, Contrast, Iboga, Spiral Trax, Tribal Vision, ChillOm, Iboga Mexico, Soultribe, YSE, Altar records, Sofa Beats – tvoří jeho pověst jako jeden z nejlepších počinů z jihovýchodní Evropy. Mezi jeho projekty spolupráce patří Goatika (mezinárodní trance kapela) a IDMT (experimentální zvuky). Vedle své elektronické tvorby se Kliment často podílí na filmových produkcích jako hudební skladatel a/nebo zvukař – zvuk pro 3D videomappingové projekce, hudba pro představení současného tance, filmové partitura atd.
ROZHOVOR ČESKY:
(English below)
• Jaká je tvoje inspirace?
Inspirace je vzor, smyčka mnoha různých situací, lidí, směn dnů a nocí. Příroda nebo láska může být inspirací, ale pouze ze správného úhlu pohledu. Pokud ne, trpělivě se přesunu do další smyčky!
• Co s sebou přívážíš do Čech? Byl jsi tu někdy?
Myslím, že kdysi dávno. Přináším novou hudbu!
• Jak vidíš českou psychedelickou/psytrance scénu v porovnání s ostatními?
S chutí objevovat! Po Fenixu mě zajímá Masters of Puppets.
• Tvůj oblíbený festival? Jaký bylo tvoje nejlepší vystoupení?
Pravděpodobně Modem. Zavírání Modemu 2019 na Swamp Stage.
• Jak jsi přišel ke svému uměleckému jménu?
Moje matka si to vybrala, když jsem se narodil.
• Tvé oblíbené syntezátory? Můžeš stručně popsat, jak produkuješ svou hudbu? Co mastering?
Modulární syntezátory za posledních 6 let změnily mnoho věcí v mém životě. V poslední době zkouším nové pracovní postupy a také využívám spoustu aplikací pro iOS, včetně těch pro resampling, což mi pomáhá sledovat zvuky, které se jinak ztrácejí v dlouhých lineárních nahrávkách. Pracuji poněkud chaotickým způsobem, trochu s tím bojuju celej život. Ano, mastering si dělám sám i na své živé hraní - nikdy nepoužívám skladby, který vydal někdo jiný.
• Jaký je tvůj vztah k ohni?
Před mnoha lety jsem žonglovával l s devil stickem. Velkej respekt k ohni.
• Co považuješ za svůj největší úspěch?
Můj syn, Alexander, 9 let.
• Co ti dala kultura psytrance/psychedelického umění?
Svoboda vyjadřovat se způsoby, jakými by to jinak nebylo možné.
• Jak relaxuješ?
Jedu na Goa :)
• Jak si představuješ dokonalé sobotní dopoledne na festivalu?
Chillout stage, káva a cigárko.
• Pivo nebo víno?
Oboje!
English:
Kliment Dichev has been over a decade in the scene presenting various electronic genres: progressive, psytrance, techno, ambient, idm, drumnbass. His main project is featured exclusively on Zenon records – an unique mixture of techno and progressive within a deep atmospheric frame underlined with solid grooves. It had shaken almost any big trance festival dance floor, on all of the six continents.His second solo project Once upon a time, now established and performed as well around the world, is a faster morning/evening psy trance with unusual sounds, often fading with film score and organic elements. Signed on Forestdelic records. Kliment is also well known for his chill out side, working on a second downtempo album for the french Electrik Dream records. His releases for labels over the world – Zenon Records, Blue hour sounds, Electrik Dream, Contrast, Iboga, Spiral Trax, Tribal Vision, ChillOm, Iboga Mexico, Soultribe, YSE, Altar records, Sofa Beats – made up his name as one of the best acts from South East Europe. His collaboration projects include Goatika (international trance band) and IDMT (experimental sounds). Alongside his electronic works, Kliment is often involved in movie productions as music composer and/or sound engineer – audio for 3D video mapping projections, music for contemporary dance performances, movie score etc.
INTERVIEW IN ENGLISH:
• What is your inspiration? What music do you listen to/are you influenced by?
Inspiration is a pattern, a loop of many different situations, people, shifts of days and nights. Nature, or love can be an inspiration but only on the right waypoint on this pattern. If not, patience for the next loop!
• What are you bringing to Bohemia? Have you ever been here?
I think i have been long time ago. Bringing new music!
• How do you see the Czech psychedelic/psytrance scene compared to others?
After Fenix - MoP is not really a Czech festival - keen to discover!
• Your favourite festival? What was your best gig ever?
Probably Modem. Modem 2019 closing set on the Swamp Stage.
• How did you come to your artist/stage name?
My mother chose it, when I was born.
• Your favourite synthesizers? Can you briefly describe how you produce your music? Do you master it by yourself?
Modular synthesizers changed many things in my life in the last 6 years. I am building a new workflow lately, using also a lot of iOS apps, including ones for resampling, which helps to to keep track on sounds otherwise lost in long linear recordings. I work in rather chaotic way so fighting with that all my life. Yes i master myself my live acts, never use mastered songs by someone else which are the ones released.
• What is your relationship to the fire?
I've been doing many years ago fire devil stick, also three ball juggling - it seems it was another life! Full respect for fire.
• What do you consider to be the greatest success of yours?
My son, Alexander, 9 years old.
• What did the psytrance/psychedelic culture give you?
The freedom to express myself in ways it would be impossible otherwise.
• What do you do to have some fun/how do you relax?
Going to Goa :)
• How do you imagine a perfect Saturday morning at the festival?
Chill out stage, coffee and cigaret.
• Beer or wine?
Both!