Jonah Moses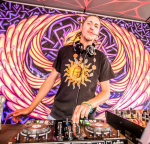 CZ
Audio pilot Jonah Moses působí na české psychedelické scéně jako součást umělecké skupiny Wizarts a 5-MeO-TAR. Hudba ho inspirovala již od dětství, kdy ve svém walkmanu přehrával pásky s rozličným hudebním materiálem. Na lidové umělecké škole studoval hru na klávesové nástroje, později skladbu a hudební improvizaci a zakončil ji oborem technika zvukového záznamu. Při toulkách hudebními žánry narazil na melodické prvky tradiční židovské hudby, která ho při hlubším zkoumání zavedla přes Izrael a Goa až k evropským labelům vydávajícím hudbu ovlivněnou těmito směry. V současné době můžete v jeho setech slyšel Klasický Goa trance bohatý na melodické linky a jedinečnou atmosféru spojenou se zlatým věkem parties v oblasti Goa v Indii. Baví ho také skládat sety ze skladeb první vlny fullon psychedelického trancu, nebo také starší dark psychedelic trance. Ze současných stylů se věnuje především pomalejší taneční hudbě z dílny labelů Zenon recors, Mekraba music a dalších...
Na psychedelických parties rád provází i hudbou chilloutovou s přesahem do jiných galaxií. V posledních letech se více zameřil na psychedelic bass music, global bass a tropical beats. V jeho setech tě ovšem můžou překvapit i tracky z chill-outů z 90 let a psychedelické chillouty, které vycházeli po roce 2000, nebo klasiky z prvních chilloutových labelů, které potěší každého poslouchače.
Drone ambient je další styl, kterému se Jonáš věnuje a při vhodné příležitosti dokáže překvapit meditačním nebo relaxačním space music setem. Ponořit se do hudeních ploch, kde čas není a prostor získává nový rozměr.
Během posledních let navštívil jako DJ například: Fenix festival, Ufo-Bufo, Bio, Global chill-out festival, B4l, Festival Ambient, kde představil své mixy.
PL:
DJ Jonah Moses jest na czeskiej psychidelicznej scenie jednym ze założycieli artystycznej grupy Wiyarts i 5-MeO-TAR. Muzyka go zainspirowała od lat dziecięcych, kiedy na swoim walkmenie przegrywał rózny materiał muzyczny. W szkole artystycznej uczył się gry na klawiszach, później kompozycji i improwizacji muzycznej, a następnie ukończył technikę zapisu dźwięku. Wędrując po gatunkach muzycznych natrafił na melodyjne elementy tradycyjnej muzyki żydowskiej, które po bliższym przyjrzeniu zaprowadziły go przez Izrael i Goa do europejskich labelów. W jego setach można usłyszeć klasyczny goa trance bogaty w linie melodyczne i niepowtarzalny klimat związany ze złotym wiekiem imprez w regionie Goa w Indiach. Lubi także komponować sety z piosenek z pierwszej fali fullon psychedelic trance, czy też starszego dark psychedelic trance. Z obecnych stylów skupia się głównie na wolniejszej muzyce tanecznej z warsztatów labela Zenon recors, Mekraba music i innych ...
Na imprezach psychodelicznych prowadzi chilloutową muzyką do iinych galaktyk. W ostatnich latach skupił się bardziej na psychedelic bass music, global bass i ttropical beats. W jego setach zaskoczyć mogą też utwory z chilloutów z lat 90-tych i psychodeliczne chillouty, które ukazały się po 2000 roku, czy klasyki pierwszych labelów chilloutowych, które zachwycą każdego słuchacza.
Drone ambient je dalszy styl muzyczny, któremu Jonah poświęca swój czas i zainteresowanie.
Zanurzyć się w powierzchniach muzycznych, w których nie ma czasu, a przestrzeń nabiera nowego wymiaru to dokladnie to, s czym czas od czasu podczas właściwej okazji przychodi Jonasz ze swojim medytatywnym czy tez space music setem do medytacji czy relaxu.
W ciągu ostatnich lat uczestniczył jako DJ na przykład: Fenix festiwal, Ufo-Bufo, Bio, Global chill out festival, B4l, Festival Ambient.
ENG:
Jonah Moses is active in DJing since 2011 on psytrance scene. In his life he studied sound engineering, piano, organ, musical improvisation and spent a lot of time playing in bands, jamming with friends and listening to the music. He actively plays a didgeridoo, synthesizers and also an accordion, which he plays in his band playing Klezmer music. That was one of the things that led him to the musical style goa and psytrance sharing very similar melodic foundation and procedures with Klezmer. Jonah is a member of the psydeco crew Wizarts, where he as an artist focuses on string art, uv active back drops and analogue projection.
On parties he very much likes to play oldschool goa trance with strong melodic elements that originated between 1995-2000, but he also plays the psytrance, oldschool fullon and first wave of dark psychedelic trance and generally doesn't follow any strict genre rules, he goes by the feeling. He often likes to start with deep slow Goa trance around 138 BPM and then to rise up in the rapid acidic trance with around 150 BPM.
His interests also include a wide variety of psychedelic chill out music with or without deep slow beats. Chill-out stage, according to him, is an important part of any party. Meditation space sets based on drones, synthesizers and Tibetan bowls, sometimes with some gentle tabla rhythm are his speciality.