HYPOGEO poprvé v Čechách (rozhovor)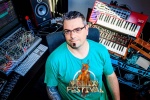 Rozhovor s Nicolou Grigattim aka HYPOGEO [Zenon records], kterého budete mít možnost slyšet naživo v sobotu 25.5. 2019 na FENIX festivalu
Bez ohledu na to, do jaké škatulky ho zařadíte, slyšet Hypogea naživo je zážitek, kterému se nic nevyrovná, ať jste kdekoliv na světě.
//
No matter what the title, the awe of experiencing a live Hypo-performance is second to none, anywhere around the globe.
(for English scroll down)
► B I O
HypoGeo je "všechno, co vzniká, roste a vyvíjí se pod zemí".
Popis zcela odpovídá jeho hudbě: je hluboká, obskurní, hypnotická, duševní, špinavá a psychedelická.
To se promítá do hudebního pozadí producenta: aranže s metalem, industriálem a EBM, New Wave, noisem, technem, IDM a dark ambientem.
V květnu 2012 byl HypoGeo uveden do širokého světa hudby. První celovečerní album "Tree of Lies" vyšlo na australském psychedelickém labelu Zenon records. To bylo obrovským úspěchem pro svůj obzvláště agresivní a těžký zvuk, stavějící most mezi nejhlubší psytrance textury, které někteří nazývají "forest" a jiní jako ultimátní "zenoneskový" zvuk.
V současnosti HypoGeo pracuje na dlouho očekávaném 2. studiovém albu, jenž by mělo být ztělesněním kreativity, abstraktních zvukových krajin a nepopiratelně spletité skladby.
Na FENIX festivalu ho můžete slyšet v sobotu večer těsně před ohnivou půlnoční ceremonií.
► R O Z H O V O R
Co je nového ve Tvém životě?
Mám štěstí, že žiju opravdu dobrodružný život. Nedávno jsem se oženil s ženou svého života, matkou mého nádherného syna. Hodně cestuji, spravuji a vylepšuji mnoho projektů jako například: nové HypoGeo Album (dlouho očekávané, ale nyní rozhodně in full production), provozuji novou undegroundovou agenturu (www.quadrabooking.com), experimentuji a dávám dohromady plně improvizovaný hardwarový liveset experimentální hudby v mém novém projektu Brødo.
Co je Tvou inspirací?
Život :)
Co přinášíš do Čech?
Spoustu nových tracků, a doufám, že nějakou pořádnou legraci!
Jak vnímáš českou scénu v porovnání s jinými?
Tak tuhle otázku nemůžu úplně zodpovědět, protože tohle bude moje první hraní v ČR. Ale jsem si
docela jistý, že taky tepe, a opravdu se těším, až to uvidím na vlastní oči.
Tvůj nejoblíbenější festival?
Nemožné odpovědět.
Jak jsi přišel ke svému jménu?
Ve zkratce, učil jsem svého psa hledat lanýže… což jsou podzemní houby (z anglického hypogean)…
znamená to, že celý svůj život rostou pod zemí. Což se natolik podobá mojí hudbě, že jsem
jednoduše poupravil ten název a vznikl HypoGeo.
Co považuješ za svůj největší úspěch?
Mít možnost cestovat po celém světě, setkávat se s neobyčejnými lidmi, žít dobrodružství a platit
účty tím, že dělám svou hudbu.
Tvůj nejoblíbenější synťák?
Další otázka, kterou není možné zodpovědět, jsem opravdu milovník syntezátorů a kdybych mohl,
vlastnil bych je všechny.
Jak si představuješ perfektní sobotní ráno na festivalu?
Zábava, slunce, přátelé, smích, dobrá hudba.
Pivo nebo víno?
Grappa :)
► E N G L I S H
► B I O
HypoGeo is "Anything that originates, grows and evolves beneath the earth".
The description perfectly fits the music: deep, obscure, hypnotic, mental, filthy and psychedelic.
It takes shades through the producer's musical background: orchestrated by extreme metal, industrial & EBM, New Wave, Noise, techno, IDM & dark ambient.
May 2012 marked the inception of HypoGeo's introduction to the wider world of music. The first full-length album "Tree of Lies" was released on Zenon records - the infamous Australian psychedelic label.
The album was a huge success for the particularly aggressive and heavy sound, building the bridge between the deepest of psychedelic trance textures, some call it "forest" and the ultimate "Zenonesque" sound.
No matter what the title, the awe of experiencing a live Hypo-performance is second to none, anywhere around the globe.
Currently, HypoGeo is working on the long awaited 2nd studio album; an epitome of creativity, abstract sonic landscapes, and undeniably intricate composition.
His spot on Fenix festival is on Saturday right before the fire ceremony close to midnight.
► I N T E R V I E W
What is new in your life?
I'm lucky enough to live a very exciting life. Recently I've got married with the women of my life,
mother of my beautiful son. I`m travelling a lot, getting many project fixed and running such as: new HypoGeo Album (long awaited but definitely in full production now), running a brand new, underground based, booking agency (www.quadrabooking.com), experimenting and getting together a fully improvised-hardware based live set of experimental music with my new project Brødo.
What is your inspiration?
Life :)
What are you bringing to Bohemia?
Lots of new tracks, and hopefully some proper fun :)
How do you see Czech psytrance scene compare to others?
Well, I cannot really answer this question as this will be my first time playing in CZ. But I'm pretty
sure the scene is beating there as well, and I am really looking forward to see it with my own eyes.
Your favourite festival?
Impossible to answer
How did you come to your name?
Long story short: I was teaching my dog to search for truffles...which are hypogean mushroom... means they grow underground, all their life. That fit so much with my music that I simply tweaked a little the name and I came up with HypoGeo.
What do you consider to be the greatest success of yours?
Being able to travel the world, meet extraordinary people, live adventures and pay bills doing the
music I do.
What is your favourite synthetiser?
Another question which is impossible to answer, I'm a true synthesizer (and in general gear)
lover... if I could I would own all of them.
How do you imagine perfect Saturday morning on the festival?
Fun, sun, friends, laugh, good music.
Beer or wine?
Grappa :)
► L I N K S ► H Y P O G E O
► L I N K S ► F E N I X F E S T I V A L
► MAP https://goo.gl/maps/KSPC9...
► FB EVENT https://www.facebook.com/...
► PROMOPACK http://fenixfestival.cz/a...
► MUSHROOM https://www.mushroom-maga...