Crystal And Pearls - československá ambient/chillout kompilace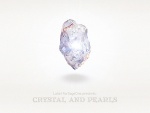 Při poslechu vstupujeme do posvátné jeskyně lorda Muabiho na jejímž konci rozfoukává jarní vánek elfka Ajin. Bezesné noci nám v odrazech zprostředkují medvídci Gemáci. Přívětivé počasí hlásící Alexander věští mimo jiné rostoucí duby na plovoucí planetě, krom těch se tam také rozrůstá obří a sladká Sakura Ivanova. Jiřík to nepobere a ztrácí pevnou půdu pod nohama. Aby se uklidnil, musí spapat duchovní semínka ze zahrádky Trimurtiho. A na konci vše a všechny pohltí ošklivý patvar Fraktál.
Tato kompilace českých a slovenských autorů vyšla nedávno na cd, ale už není na fyzickém médiu dostupná. Label ForsageOne s pomocí Surface Tension protlačili tyto plné a rytmusenebránící ambientní nálady na server bandcamp.