CARBON BASED LIFEFORMS v Praze!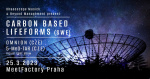 Švédské elektronické duo Johannes Hedberg a Daniel Vadestrid přijede poprvé zahrát do České republiky, kdy se představí v pražské MeetFactory 25. března 2023. Ambientní downtempo gothenburgských si získalo pozornost svou originální nezemskou atmosférou již na dvacet let starém debutu Hydroponic Garden. Carbon Based Lifeforms, zpočátku ovlivnění projekty jako Boards of Canada nebo FSOL, se dopracovali k nezaměnitelnému rukopisu, který jim po boku Solar Fields či Asura vynesl výsostné místo mezi špičkou psychedelické elektronické scény. Ikonická alba jako World of Sleepers či Interloper patří dodnes mezi to nejlepší v daném žánru. Na Derelicts se pak dvojice utvrdila v signifikantním lo-fi soundu definovaným analogovou výbavou. No a konečně na aktuální desce Stocachtic Švédi pro změnu experimentují s náhodným vrstvením syntezátorových vstupů s cílem vytvářet platformu pro pasivní poslech, který by zároveň dokázal stimulovat soustředění a koncentraci na zvuk. Audiovizuální prezentace Carbon Based Lifeforms slibuje nezapomenutelný zážitek v kulisách smíchovské industriální krajiny.
Je nám potěšením, že jako support švédských náladotvorců můžeme představit pražský projekt OMNION Tomáše Reindla.
Svůj world-trance, jak vlastní tvorbu nazývá, staví na práci se smyčkami vytvářenými v reálném čase. Vše míchá s akustické instrumenty jako jsou tabla, dechové nástroje a práce s hlasem od beat-boxu po alikvótní zpěv. https://www.omnion.cz/
ne
Nevšední událost prozáří liquid light show od 5-MeO-TAR crew, kteří večerní MeetFactory obohatí o psychedelický rozměr a hrou světla a barev povznesou prostor do surreálných souvislostí. https://linktr.ee/5meotar
---
Předprodej za 900 korun spuštěn na www.khaaoscope.cz. První vlna zvýhodněných lístků za 750 byla rozebrána.
--------------------------------------------
Johannes Hedberg and Daniel Vadestrid are coming from Gothenburg (Sweden) to Prague in the Czech Republic for the first time. Their ambient downtempo has been known for its original unearthly atmosphere ever since their twenty years old debut Hydroponic Garden. Initially influenced by projects such as Boards of Canada and FSOL, Carbon Based Lifeforms have developed an unmistakable signature that has earned them a place at the top of the psychedelic electronic scene alongside Solar Fields and Asura.
Their iconic albums like World of Sleepers or Interloper count among the best in the genre today. With Derelicts, the pair consolidated their signature lo-fi sound resulting from their analogue gear. And finally, with Stocachtic, the Swedes started experimenting with random layering of synth inputs, with the aim of creating a platform for passive listening while also stimulating focus and concentration on the sound itself.
The audiovisual presentation of Carbon Based Lifeforms promises an unforgettable experience in the industrial scene of Prague's Smíchov.
carbonbasedlifeforms.net
carbonbasedlifeforms.bandcamp.com
facebook.com/carbonbasedlifeforms
thebeyondmanagement.com/
We are pleased to present the Prague project OMNION by Tomáš Reindl as support for the Swedish mood makers. CBL He bases his world-trance, as he calls his own work, on working with loops created in real time and processing. Producer mixes everything with acoustic instruments such as tabla, wind instruments and voice work from beat-boxing to aliquot singing. https://www.omnion.cz/
The extraordinery event will be lit up by the liquid light show from the 5-MeO-TAR crew, who will enrich the evening MeetFactory with a psychedelic dimension and, with the play of light and colors, will elevate the space into a surreal context. https://linktr.ee/5meotar
CARBON BASED LIFEFORMS (SWE)
https://www.youtube.com/w...
Carbon Based Lifeforms - Live Set at Tillsammans, Slaktkyrkan 2021-10-02
OMNION
https://www.omnion.cz
VJs
Code Noctis & kolektiv || DIGITAL || VJs || live image manipulation
https://www.facebook.com/...
Kashmir & kolektiv || ANALOG || 5-MeO-TAR || LIQUID LIGHT SHOW
https://linktr.ee/Kashmir...
https://linktr.ee/5meotar