Autumnal Dreaming with Medhorinum - 3.10.2015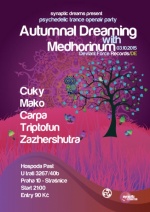 Vážení a milí psychedeličtí nadšenci,
přichází podzim, naše oblíbené roční období. Léto už je šťastně za námi a nezbývá, než se stáhnout zpět do svých ulit a co nejblíže svým středobodům. Jedině tam se můžeme nerušeně oddávat svým vzpomínkám a úvahám, tříbit názory a postoje posílené nově nabytými zkušenostmi z uplynulých týdnů. Řádné vyhopsáni z bezpočtu letních open-airů, uleháme na své kavalce a přemítáme, jak zúročit nárůst našeho psychedelického potenciálu.
Ovšem pozor, to je jen začátek. Po nějaké chvíli nás totiž začnou přepadat drobné chmury, zda během nadcházejících (pod)zimních měsíců naše duše nezakrní, protože tělo se chystá věnovat fádním aktivitám jako stravování, spaní, myti a jiným přízemnostem. My členové Synaptic Dreams jsme si těchto stavů dobře vědomi, sami jimi občas procházíme a radost nám rozhodně nedělají. Zamysleli jsme se proto nad možnostmi, jak se z takového bludného kruhu přirozeně a elegantně vyvléci. Dlouhé lámaní našich hlav mělo nakonec překvapivě pozitivní efekt. Rozhodli jsme se vsadit na homeopatika a jejich schopnost léčit lidské organismy jako celek! Dodáváme: Mají-li naše organismy navíc viru v sebe samy, nemělo by jim prakticky nic stát v cestě k rychlému uzdraveni.
Ptáte se jistě: jaká homeopatika? k čemu vlastně? My odpovídáme: jsme zodpovědní za podzimní stav duši našich posluchačů, souputníků a přátel. Jsou-li tyto duše ohroženy, je třeba nastolit léčbu! Když léčbu, tak homeopatiky! Když homeopatky, tak jedině silnými, účinnými a nekompromisními!
A proto jsme k tomuto účelu zvolili Medhorinum, hluboké původem řecké homeopatikum, které k nám zavítá z německého Berlína. Medhorinum, které zaštituje renomovaná značka Deviant Force Records, dozajista uleví našim duším a konečně vnese vytouženou psych(edel)ickou rovnováhu do našich řad. Nelze vsak čekat, že samotná léčba bude jakousi procházkou sluníčkovou stagí. Čeká nás totiž bouřlivá a burácivá noc plná překvapení, na která budete ještě dlouho vzpomínat.
Budeme se těšit na vás (i na výrazy vašich tváří)…
Váši Synaptic Dreams
AudioPilots:
Medhorinum Live/DJ set [Deviant Force Records, DE]
https://www.soundcloud.co...
Triptofun [Kamasutra Psytrance]
Zazhershutra [Independent]
Carpa [Synaptic Dreams]
Mako [Synaptic Dreams]
Cuky [Synaptic Dreams]
Decos:
Kamasutra & DreamTeamWorks
Entry: CZK 90.-
3.10 - 2015
Hospoda Past U trati 40 B, 10000 Prague, Czech Republic