Acid ThEater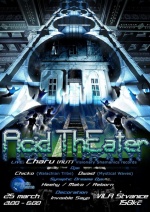 Březnová tancovačka v podání Synaptic Dreams se tentokrát ukuteční v méně známém prostoru Vily Štvanice a to 25.03.2017. V rámci této akce oslavíme narozeniny hned dvou našich členů. U toho přeci nesmíš chybět!
Jako hlavní host se nám představí mladý a nadějný umělec z Rakouska, Charu, kterého jsme vám chtěli představit již vloni na podzim ve strašnické Pasti. Akce se tehdy nemohla uskutcecnit, a tak jsme radi, ze Vam ji můžeme touhle veselicí vynahradit.
Jako další host vystoupí rodák ze Slovenska, osřílený DJ Chicko, který ma za sebou již pěknou řádku akcí. Ve svém setu nám dá pocítit, jaké to je umět vládnout temným hvozdům.
Naším poslednim hostem je v Praze již dobře známý DJ Dwaid ze stáje Mystical Waves. Tento rodak ze slovenske Nitry nám ve svém typicky řízném setu hned v úvodu dodá energii, co vydrží po celou noc!
Těšíme se na vas, kamarádi!
LIVE:
Charu [Visionary Shamanics Records, AT]
https://soundcloud.com/sl...
www.facebook.com/slinkysw...
DJs:
Chicko [Walachian Tribe]
www.facebook.com/Chicko-W...
Dwaid [Mystical Waves]
www.facebook.com/Mystical...
Synaptic Dreams DJs
Heehy
https://soundcloud.com/heehy
www.facebook.com/HeehySD
Mako
Reborn
https://www.mixcloud.com/...
www.facebook.com/Dj-Rebor...
Decorations by the Invisible Sayp
Graphic design by Shaman Baraban
Admission CZK 150,-