INTO the WILD - ATS records inauguration´s PSY event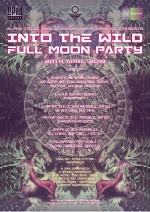 indoor
20.04.2019
Artbar Druhý pád, Brno
Štefánikova 836/1
map

DJs
# Artist / DJ Name: Subnormal
Home Country: India/Dubai
Label: Sangoma Records, Universal Dance Records, Namaha Records, Resident DJ for Ravelations
https://www.facebook.com/...
______________________________________________________
# Artist / DJ Name: S.H.i.K.A
Home Country: Egypt/Dubai
Label: Independent
https://soundcloud.com/sh...
______________________________________________________
# Artist / DJ Name: Cybernetixx
Home Country: Czech Republic, Brno
Label: Silver Lake Festival
https://soundcloud.com/to...
https://www.mixcloud.com/...
_____________________________________________________
# Artist / DJ Name: Psychoteek
Home Country: Czech Republic, Brno
Label: Shivadeco records , Resident DJ for Shivadeco
mixcloud.com/psychoteek
______________________________________________________
# Artist / DJ Name: Daffy
Home Country: Czech Republic
Label: Butchers Bay Crew / Drtek
______________________________________________________
# Artist / DJ Name: Alsafarie
Home Country: Portugal, Lisbon
Label: Alpha Tribe Soul records
https://www.mixcloud.com/...
https://www.facebook.com/...
Chillout
CHILL OUT SPACE STATION
(SHIVADECO)
LINE UP:
# Jirik (Shivadeco)
# Pangea (Shivadeco)
# Ixtremist (Ufo Bufo team)
# Psychoteek (Shivadeco)
# Michal Forest (Shivadeco)
# Ynok (Shivadeco)
Info
ATS RECORDS in collaboration of SHIVADECO presents:
INTO THE WILD - FULL MOON PARTY
ALPHA TRIBE SOUL is a new project created by Wilson, AKA Alsafarie to gather PEOPLE, new CULTURES, new EXPERIENCES and above all that good VIBES among all of us who love to express our passion through goa/psytrance culture and electronic ambience.
The main goal here is to bring and add more energy on this community in the lovely city of Brno. Brno is in constant grow on the psy scene and uplifting the quality of events.
This FULL MOON party will take place at ARTBAR on the 4/20 and nothing better than to celebrate it the way we know it!
I have the pleasure and honour to introduce this international and national line up but full of a contagious good energy on the scene.
The event will have the presence of the well-known PSYCARE which will make sure that we get WILD in a safe psy enviroment.
( https://www.facebook.com/... )
The event will start at 9 PM and ending at 07 AM.
Tickets will be available at the entrance of the venue only.
200 czk BEFORE 11 PM
250 czk AFTER 11 PM
Only GOOD VIBES are WELCOME.
Wish you all wonderful trip INTO THE WILD..
NAMASTE
ATS RECORDS
Entry
200 CZK before 10 PM / 250 CZK after 10 PM