TriPEACEk vol.2 Dark gathering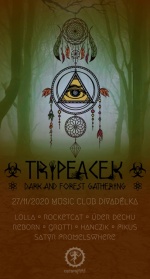 club
27.11.2020
Music club Divadelka Písek
Tylova 69/8, 397 01, Písek

Info
Sekec mazec nakonec
Pro všechny, spřízněné duše jsme připravili poslední ale o to nabušenější a temnější pokračování TriPEACEku v Divadelce !
Čeká vás setkání dvou elektronických scén v temných rytmech - zdobené dekoracemi od NatarajART, z kterých (a to vám slibujeme) budete mít husí kůži.
Pojďme si tak společně zatančit, zadupat a pobláznit na půdě Divadelky a otřesme tak základy celého divadla !