PSYCHEDELICIOUS - PODZIM 2019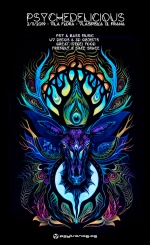 indoor
02.11.2019 - 03.11.2019
VILA FLORA | PRAHA

DJs
000333
DARJEEL
JENDA LEGENDA
JONAH MOSES
KASHMIR
Live Acts
DAN BENEŠ + ANTAREYA
Deco
5-MeO-TAR
ART OF AIWA
DAN BENEŠ - VÝSTAVA!!!
KASHMIR
PSYALASKA
WIZARTS
Info
scroll ⬇ for English
2. listopadu 2019 bude sedmé pokračování basovkového PSYCHEDELICIOUS
Tradiční labužnický psychődelický večírek pod taktovkou WizArts s podporou Fenix Festivalu. Opět nás bude hostit přátelský a bezpečný prostor Vila Flora a to včetně bohatě vybavené kuchyně s raw a veganskými pochutinami a nezastupitelnou čajovnou. Předkrm budiž v podobě autorské kolekce pláten slovenské malířky Art of Aiwa. První chod budiž od Daniel Beneš a jeho kapelky Antareya, Dan zároveň představí i výstavu svých obrazů. O další chody audio i vizuální se podělí šéfkuchaři Kashmir z Mimo-TV a DJ Jonah Moses z pořádajících WizArts. Znalec a bonviván 000333 nenechá nikoho na pochybách, že jde o produkci nevšední a vzácnou. Zvukově krystalicky čistou opulenci s berlínskou precizností nachystá Jenda Legenda a těšit se možno na high precision aktivní midfield monitory Adam S3V - k tomu doplněno o mechový zvuk Mechy Sound a zvukové wellness je zajištěno.
Jedná se o událost opravdu výjimečnou a jako správní hostitelé a požitkáři bychom rádi, aby to tak zůstalo a každý host měl možnost tento neopakovatelný zážitek příjemně strávit. Proto jsme se po předchozích zkušenostech rozhodli, že ke společné psychedelické hostině sezveme maximálně 130 úžastníků. A to včetně personálu, dobrovolníků, artistů, psychonautů a crew! Vstupenky na banket bude možno zakoupiti v předprodeji, již brzy uveřejníme doplňující informace o ceně a konečném počtu, který budeme vyndávat.
UPDATE "Naším hlavním cílem je vytvořit příjemné a bezpečné prostředí pro všechny psychonauty. Prostor Vila Flora má své kapacity, které jsme měli možnost několikrát naplnit a v některých případech i překonat :) Vzhledem k faktu, že nebude spodní psytrance místnost, hledali jsme řešení a to se našlo! MULTILEVEL PARTY :D v tom prostředním patře, jak tam vždycky lidi posedávájí, tam otevřeme balkonový (mazlící) pokoj. Nejenže vznikne další prostor, který se dá vydekorovat, ale hlavně tam se vejde třeba 20 lidí, co 1/ bude moci v tom pokoji posedávat a sdílet více v klidu 2/ uslyší hudbu seshora 3/ za určitých podmínek snad bude moct i chodit kouřit na ten balkon. 4/ pokoj za kuchyní zůstává jako klidová zóna. Tedy uvolňujeme do prodeje cca o 20 vstupenek více oproti původně plánovaným 108. Řekněte to kamarádům a přátelům, kteří lístek ještě nemají a se kterými byste chtěli tento zážitek sdílet, jinak riskují, že se na akci nedostanou."
bass | psybass | chillout | glitchhop | ethno | tribal | ecometric | mystic | groove | psydub | downtempo | ambient | psybient | tipper | IDM | shamanic | temple | chanting | organic | psychedelic
⩥ Kashmir and friends strikes again!
⩥ Zůstaňte naladěni
ENGLISH:
November 2nd will be the eighth sequel of PSYCHEDELICIOUS bass music party.
Traditional gourmet psychedelic party presented by WizArts with the support of Mimo-TV and Fenix ​​Festival. Again, we will be hosted by a friendly and safe space of Villa Flora, including a richly equipped kitchen with raw and vegan snacks and a tearoom.
This is an extraordinary event, and as the right host and gourmets, we'd love to keep it that way, that everyone has the opportunity to spend the unrepeatable experience pleasantly. That's why, after previous experience, we decided to bring together a maximum of 130 visitors to the psychedelic banquet. And this includes staff, volunteers, artists, psychonauts and the crew! Banquet tickets can be purchased in advance, which we highly recommend!
bass | psybass | chillout | glitchhop | ethno | tribal | ecometric | mystic | groove | psydub | downtempo | ambient | psybient | tipper | IDM | shamanic | temples | chanting | organic | psychedelic
⩥ Kashmir and friends strikes again!
⩥ Stay tuned