FuturistiX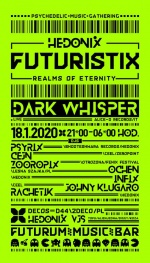 club
18.01.2020 - 19.01.2020
Futurum Music Bar
Zborovska

DJs
OCHEN (Lesna Szajka / Poland)
PSYRIX (Bhooteswhara rec./Hedonix/CZ)
ZOOROPIX (Fenix festival/Otrozona/CZ)
CEJN (UfO BuFo Festival/CZ)
Live Acts
D-A-R-K WHISPER (Alice-D Records/Italy)
Chillout
INFIX (Hedonix/CZ)
JOHNY KLUGARO (Hedonix/CZ)
RACHETIK (Hedonix/CZ)
RAAYA (Cybernetics System/CZ)
CEJN in da Chill (UFo Bufo Festival/CZ)
SURPRISE LOUNGE SET BY HEDONIX ft. MANU
(indian traditional singer)
VJs
Hedonix Vjs ToFu, Siggy, Koza, Alienjedna
Deco
The Construction & D44
Psyfection
Hedonix
Info
FuturistiX - Realms of Eternity - Psychedelic Trance Event
Jako již obvykle po novém roce, vám Hedonix představuje další ze série nezapomenutelných akcí FuturistiX v krásném a zvukomalebném prostředí hudebního klubu Futurum. Po Eat Staticovi, Parasense, Transdriverovi a dalších, opět posouváme laťku audiovizuálního zážitku o stupínek výše. Přijďte se pokochat symfonií smyslů a oddejte se naplno všemu novému co pro vás chystáme. FuturistiX je tady.
Tentokráte rozdělíme Futurum na dvě zásadní části, jednu hlavní Whisperers Den a druhou Realm of Eternity s plnohodnotnou čajovnou uvnitř. Místo, kde byla čajovna v minulých edicích, vyplníme interaktivní výstavou a překvapením.
O výzdobu celého interiéru se postarají koncepčně The Construction. Polská parta sestávající z umělců 2Deko/D44 a dalších se ve spolupráci s Hedonix Vjs pokusí vytvořit iluzi starého viktoriánského prostředí plného duchů a záhadných sil. Prostor doplníme o širokou škálu videoefektů, laserů a pohyblivých obrazců tak, abychom vám všem připravili výpravu do hlubin změněného vědomí.
Headlinerem této edice bude multiinstrumentalista a v poslední době jeden z nejžádanějsích liveactů současnosti italský hřebec DARK WHISPER, který se představí ve svém 3 hodinovém setu a uvede své nové album. Těšit se můžete na nekonečný příběh a nekompromisní zvukovou kvalitu. Lineup doplní polský matador ze stáje Lesna Szajka DJ Ochen, rezident FuturistiXu Psyrix z Hedonixu a v neposlední řadě naší vážení hosté Cejn a ZooropiX.
Na druhé scéně uslyšíte plejádu umělců tentokráte v ryze chilloutovém duchu, pohodlí a s vůni orientu.
Nenechte si ujít tento zážitek, který se bude konat jen jednou za rok. Těšíme se na vás.