Elements of Music with Mark Day. Live!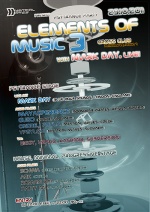 club
29.10.2011
Cross Club (Praha)
Plynární 23, Praha 7
GPS 50°6'29.448"N, 14°26'35.442"E
map

VJs
Siggy (Hedonix)
Kashmir (Hedonix)
Subversion
Uzako
Info
Info:
Třetí pokračování akce Elements of Music. Tentokrát se zaměříme na psytrance, minimal, progressive a house. Horní scéna bude patřit různým stylům psytrancu (Progressive, Full on, Forest psytrance a Morning trance). Jako hlavní host se nám představí Mark Day z labelu Blue Hour Sound Records. Na dolní scéně zahrají rezidenti klubové noci Flow Roman Rai a Fatty M. Dalé vystoupí v minamal setech dj Schwa a dj ARK. Těšíme se na vás!
Mark Day Info:
Marek objevil psytrance na konci roku 2007. Bylo to na londýnské psytrance squat scéně. Po návštěve nové dimenze vnímání času a prostoru se zapojil v roce 2008 do scény tím, že začal djjovat a samotné party organizovat.
Po dvou letech začíná s vlastní produkcí, která se dá zařadit do kategorie "forest psytrance". Šlapavé, hravé, ale přitom temné a psychedelické.
Nyní hraje pravidelně na parties v Londýně. Jeho hraní jste mohli slyšet ve státech jako je Indie, Austrálie a Indonésie.
V tento moment tvoří tracky pod značkou Blue Hour Sounds. Na tomto labelu krom Marka tvoří umělci jako jsou Ianuaria, Gido, Atati, Flooating Grooves, Tantrix a další.
V Praze se můžete těšit na 2 hodinové vystoupení!
MARK DAY SOUNDCLOUD
BLUEHOURSOUNDS WEB
Link:
FACEBOOK EVENT
Entry
do 22:00 free, po 22:00 90,-