Concept - The Vicious Cycle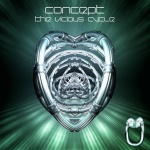 Francouzský skladatel noční psytrancové hudby Concept je známé jméno. Vydal už dvě alba a na obou dokázal, že je talentovaným člověkem schopným utvořit si jedinečný styl a na jeho základech stavět nápaditou a originální hudbu (jakkoliv to v rámci psytrancu nejde úplně snadno). Nové album The Vicious Cycle vychází u Digital Psionics, jednoho z nejkonzistentnějších a nejlepších labelů na poli tvrdého, ale melodického nočního soundu.
The Vicious Cycle je zajímavý už tím, že se nese v trochu světlejších polohách, než jeho dva předchůdci. Zatímco první album Experimental se nese v čistě tvrdých nočních linkách, Paranormal už malinko prosvítá na denní světlo. The Vicious Cycle tuto "cestu za světlem" dovršil. Najdeme tu skladby vhodné jak do ranních setů hraných za úsvitu, i do setů nočních. Obal se povedl a celkově je originální, i co se týče grafiky labelu. Mám rád způsob, jakým si Digital Psionics dávají záležet na výstupní podobě svých releasů a obálka Concept, kovový 3D objekt laděný do jemné zelenomodré je elegantní a přitom průrazný, evokuje čistotu.Skladby nebudu popisovat jednu po druhé (i když to mám s dobrých důvodů občas ve zvyku). Řeknu jen tolik, že album se v průběhu hracího času jemně přelévá od minimalističtějších prvních tracků do trochu více komplexních kousků a dává tak vyznění celého alba gradaci a říz. Zvuk je krystalicky čistý, mastering je jako vždy u Digital Psionic výborný (mám pocit, že už jsem to i vyzkoušel na parketu).
Co se týče kolaborací, nalezneme tady spolupráce se čtyřmi známými producenty – šíleným Švýcarem CPU (Central Processing Unit), Scorb, Lost and Found a Portugalcem, mým velkým oblíbencem Tryon. Každá skladba má vlastní duši a svůj drive, obsahuje originální motiv a hlavně: Je to album plné neuvěřitelně naživo nakopávající muziky! Milovníci nočního soundu – rozhodně nemůžu než doporučit.
90%