Funny Moon gathering 2021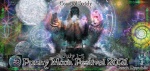 open-air
01.07.2021 - 05.07.2021
Valeč u Karlových Varů
map

DJs
Activ8 (Moonstream/Public Beta Rec) Serbia
Caban (LebeLiebeLache) Austria
Dinke (Unnatural Selection) Serbia
Fiszu (PsyWest Crew/Chaishop.com) Poland
GeNoeGen (Na konci vesmiru) Czech Republic
Giuseppe (Parvati Records) Denmark
GoaTarzan (Mouju Records) Germany
Happines (Euphoria) Austria
Horizon (Cosmixed Society/Popol Vuh Rec) United States
i-460 (Transcape Records) Japan
Immanu-El (Sunna Records) Bavaria/Germany
Kimmei (Parvati Records) Bavaria/Germany
LamaTek (Cosmixed Society/Shanti Tribe) Serbia
MissVerständniss (Banyan Rec/Chaishop.com) Germany
Nebokad (Mouju Records) Germany
Parama (NexTimeProd) Austria
Pixie (Lycantrop Rec/Purple Hexagon Records) Costa Rica
Ratri (Morfogeneza) Poland
Rita Raga (Psylicious/1.2.Trip Records) Poland
Rix (TesseracTstudio) Croatia
Sabsunshine (Sound Lab Pirates) Austria
Salihlavka (Synaptic Dreams Records) Slovakia
Trip Commander (Cosmixed Society) Austria
Tom O Rion (Hypnotica Rec) Germany
Chillout
Anicca (Cosmixed Society) Austria
Arnab (Psytrance Night) Israel
AxiOhm (Independent) Austria
Dalilama (Cosmixed Society/Shanti Tribe) Serbia
Elemental (UfoBufo) Czech Republic
Extracted Roots (Tropical Odyssee) Gernamy (Live)
Fipsinger & Parama (Next Time Prod) Austria
Fractal Mist (Independent) France
Harmonic (Protected Universe) Austria
MissPixie (EnkiLab/Hunab Ku Rec) Costa Rica
Noziroh (Popol Vuh Records/Cosmixed Society) United States
Rita Raga (Altar Records) Poland (Live)
Shif Ex (Stereoid Records) Germany
Suzie Fleur (Independent) Netherlands
The Hippy Trippy Chef (Independent) Germany
VJs
Baby K (Alternate Reality) ••٠UK
Liquid Senergy Design ••٠USA
Deco
DekotroniX ••٠ Usa/Austria
Elemental Crew & Cyreal ••٠(Ufo BUfo team) Czech Republic
Nobokads Dekoration ••٠Germany
Paraworx decoration ••٠Germany
Shankara Lab Design Team ••٠Ukraine
Sh'aka Void Project ••٠France
Tarzan Art ••٠ Germany
Info
5 dní hudby, 16 live aktů + 50 zahr. dj.
https://www.youtube.com/w...
https://www.youtube.com/w...
https://photos.app.goo.gl...
New Toilets
Healing Area With Workshops, Message, yoga and more
Fire & Led Performance
Food & Market area with a view
New Funny Forest and Ewok Village in the Trees
Hammock Garden and new Plato in upper forest
Movie Area
Castle garden Open by day
Art Gallery
Bow and arrow shooting range
Planetarium
Funny Moon festival is a non commercial event. Always has been, we use all founds we receive from you( our guest ) to build and keep the spirit of the psy family alive.
We try to keep it in a size so people are actually able to see each other more than once on a party… so that family like atmosphere is being kept up.
The main stage will deliver Alpha and Omega wave, depending on the time of day. But the music is intended to be inspiring in their own way of experience. Maybe not like any other festival.
We want something energetic and people be high from the music…
We definitely want to give people an alternative to the commercial festival machine running every week during the summer.
We are focusing on the spiritual aspect of the party and the energetic wave throughout….
We want also you to feel at home in a family of wonderful people who are still walking the planet
Entry
1300,- za 5 dní, pátek až pondělí 1000,- Platí se na bráně, platné pro CZ i PL návštěvníky.