Výstava hmyzu / INSECT EXHIBITION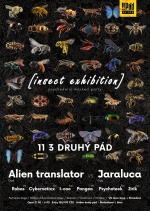 indoor
11.03.2017
Artbar Druhý pád, Brno
Štefánikova 836/1, 602 00 Brno-střed-Veveří
map

DJs
• DJ ROBAS (Zahadum Sphere) •
Naším druhým hostem je talentovaný DJ ze Slovenska, který je také promotérem a organizátorem párty Dupanica, RetroSpektro a dalších projektů u našich slovenských sousedů.
• DJ JIRIK (ForSageOne) •
DJ a producent, kterého již brněnské publikum důvěrně zná a ví, že umí vykouzlit nezapomenutelné sety s neuvěřitelnou lehkostí zkušeného Dj.
• DJ PSYCHOTEEK (ShivaCrew) •
Stálý pomocník na našich akcích v Music labu a všestranný DJ, který na minulé párty v Druhém pádu rozezníval chill-out stage, vás přesvědčí, že mezi jeho silné stránky patří i psytrance.
• DJ CYBERNETIXX (ShivaCrew) •
Tentokrát vystoupí již za organizující crew a zahraje ranní set na mainstage.
Live Acts
• ALIEN TRANSLATOR (Pol) LIVE • vs • JARALUCA (Pol) LIVE •
Headlinerem bude tentokrát severský černý mág Alien Translator, který nás provede temnými zákoutími naší duše, aby se později přetransformoval do posla goa světla ve svém druhém projektu Jaraluca.
Chillout
Global Chill-out Festival stage
• I-ONE LIVE (leader Shivanam a Shivatrance Project) •
Všem dobře známý brněnský producent a promotér vás provede svým fantaskním světem a průřezem jeho 3 alb.
• DJ Pangea (Slo) •
Na minulé akci vás v ranních hodinách rozskákal tak, až jste ho málem nepustili domů. Tentokrát naopak předvede svůj vkus a cit pro výběr skladeb v pomaleším tempu na chill-out stage.
+ dále doplní svými sety i DJ Jirik a DJ Psychoteek
Deco
ShivaDeco, Sayp (SK)
Info
Zima se chýlí ke konci a pomalu se probouzí jaro. Je cítit ve větru, je slyšet ve zpěvu ptáků a s jejich příletem vylézá ze svých zimních úkrytů hmyz. Hmyzí stvoření všech barev a tvarů, malá i velká, neškodná i smrtící. Na pohled s nimi máme jen málo společného, ale životní síla, která v nás proudí, je stejná. Někteří mohou být odporní, někteří roztomilí a někteří nádherní. I my, lidé, v sobě nosíme to krásné i to odpudivé a s obojím musíme žít.
Výstava hmyzu nám pomůže transformovat to nezpracované v nás, dobré i špatné, do jednoho celku. Vstupem do prostor muzea hmyzu Druhý pád se staneme larvami, kterým dunivý rytmus a vesmírné frekvence psytrance pomohou projít všemi stádii zakuklení nutnými pro to, abychom ráno roztáhli křídla a jako zářiví motýli vyletěli do venkovního světa.
Další psytrance párty z dílny Shivacrew v Druhém pádu, tentokrát s hmyzí tématikou. Můžete se těšit na psytrance stage, chill-out stage, čajovnu, bar, projekce, UV dekorace - prostě vše, co nesmí chybět na správné párty ;-)
Navíc pokud přijdete s hmyzí maskou, získáte slevu na vstupné ve výši 40 Kč!
Těšíme se na vás!
Předprodej probíhá pomocí bankovního převodu:
Pošlete na č. účtu 1224269038/3030 částku 150 Kč za 1 vstupenku. Do zprávy pro příjemce vyplňte jméno, příjmení a email (případně tel. číslo), na který vám pošleme číslo vstupenky a potvrzení o platbě. V případě, že transakce nebude obsahovat kontaktní údaje, posíláme částku zpět bez vstupenky.
Převod může trvat 3 dny, předprodej převodem končí ve středu 8. 3. Poté můžete využít předprodej na prodejních místech v Brně:
Dvořákova 3, Brno
Chajovna Dominkánské nám. 6/7, Brno
ENGLISH INFO COMING SOON!
Poprvé v České republice!
Alien Translator ( Lukasz Z. ) is dark psychedelic project from Poland. Project was made in 2016 , but Lukasz from his first steps in music production started to make dark sounds.
He started making music in the summer 2012 without any musicans skills or knowledge .His friend MiraCeti came from his first OZORA Festival in 2012 and showed Lukasz what psytrance is all about. Alien Translator is full power . inteligent , dark psy with many breaks, squelches and organic fx's.
ENGLISH INFO HERE:
The Winter is coming to an end and the Spring is slowly awakening. You can feel it in the wind, you can hear it in the songs of birds, and with their arrival, insects come out of their winter shelters. Insect creatures of all colors and shapes, small and large, harmless and deadly. By sight, there is only a little that we have in common with them, but the life force that flows within us is the same. Some of them might be disgusting, some cute and some gorgeous. Even we, the people, carry something beautiful and repulsive within us, and we must live with both of these.
The Insect Exhibition will help us transform the raw in us, both the good and bad, into one single unit. By entering the space of the insect museum Druhý pád, we will all become larvae, to which the thudding rhythm and space psytrance frequencies help to pass through all the stages of being a cocoon, necessary for us to spread our wings in the morning like pastel butterflies and fly to the outside world.
You can look forward to a psytrance stage, a chill-out stage, a tearoom, a bar, projections, UV decorations - everything you should not miss at a proper party ;-)
• ALIEN TRANSLATOR (Pol) LIVE • vs • JARALUCA (Pol) LIVE •
The headliner of this event will be the northern black magician Alien Translator who will take us on a journey through the dark corners of our souls, that later transforms into a messenger of the light of Goa in his second project Jaraluca.
• DJ ROBAS (Zahadum Sphere) •
Our second guest is a talented DJ from Slovakia, who is also the promoter and organizer of the party Dupanica, RetroSpektro and other projects with our Slovak neighbors.
• DJ JIRIK (ForSageOne) •
A DJ and a producer who is already familiar to the Brno audiences and is known for being able to conjure up memorable sets with incredible ease of an experienced DJ.
• DJ PSYCHOTEEK (ShivaCrew) •
A Standing helper at our events in the Music Lab and a versatile DJ who at the last party in Druhý pád made the chill-out stage chime will convince you that psytrance belongs among his strengths as well.
• DJ CYBERNETIXX (ShivaCrew) •
This time, DJ CYBERNETIXX will perform as the member of the organizing crew and will present the morning set on the main stage.
Global Chill-out Festival stage
• I-ONE LIVE (Shivanam and Shivatrance Project leader) •
Well known to everybody, a producer and promoter from Brno will guide you through the fantasy world and a cross section of his three albums.
• DJ Pangea (Slo) •
He made you jump so high last time in the morning, that you almost did not let him leave for home. This time, on the contrary, he will show his eye and taste for a good selection of songs in the down tempo of the chill-out stage.
+ accompanied by the sets of DJ Jirik and DJ Psychoteek
Decorations: ShivaDeco, Sayp (SK)
Admission: 190 Kč at the gates / 150 Kč in advance
Entry
150 CZK předprodej / 190 CZK na místě - na vstup v hmyzí masce sleva!